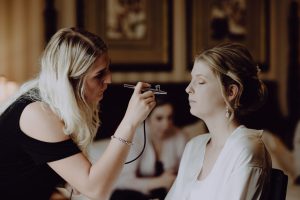 When you are looking to hire a professional makeup artist for your special event you want a company that is looking out for your best interest at heart.  At Jasmine Rose Artistry, I have your best interest because I want to make you look and feel beautiful for you special occasion.  Listed below are services and pricing for makeup services from Jasmine Rose Artistry.
Wedding Makeup Services & Pricing
Bridal Airbrush Makeup Application: $80
Traditional or Airbrush Makeup Application: $75
(Includes lashes & a touch up kit)
Bridal Package: (Includes Trial, Engagement, Bridal Shower, Bachelorette, and Wedding Day)
(Can service up to 15+ person bridal parties) 
Seniors Makeup Services & Pricing
Senior Year Package: $292(Senior Photos, Prom, Senior All-Night Party, And graduation)
Commercial / Photoshoot Makeup Services & Pricing
Half Day Rate: $350
Full Day Rate: $550
Other Pricing
If you have a special event or occasion that you would like to hire Jasmine Rose Artistry please contact us for special pricing.  Whether you need makeup services for a luncheon, headshots, dinner party, etc. we can provide you with a price for your event online or over the phone.